Ara enjoys the MMC visits!

Dear Mike's Math Club,
I enjoyed the packet you sent me. I'm still working on it. The math skills you taught me helped so much on my math homework and tests.
My brother Bruce likes going to Porter Middle School. Some of his friends were also in the Club. I am so surprised that Mike started the Club 19 years ago!
I always use the secret code, and my brother thinks I'm scribbling numbers down. I use it to write all my secrets, and nobody knows what I'm writing.
I've always wanted to become famous. I wanted to become an actress, but I don't think I'd be a good one. I also wanted to be a teacher, a chef, and a designer, but I can't decide which one.
I love my Minnesota Muskrat pin and I'm hoping I can get Lupita next.
I've decided I am going to have a place just for my Mike's Math Club goodies. I always enjoy your visits so please come soon.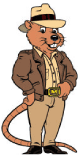 Sincerely,
Ara Lee
Mr. Heinbaugh's 5th Grade Class
Balboa Boulevard Magnet School
Northridge, California
2005-2006